This is how I used to look like back in the year 1999 when Morocco from the Daily Show interviewed me. I was just 28 that time. You can see my 'The Daily Show' interview filmed in year 1999 here.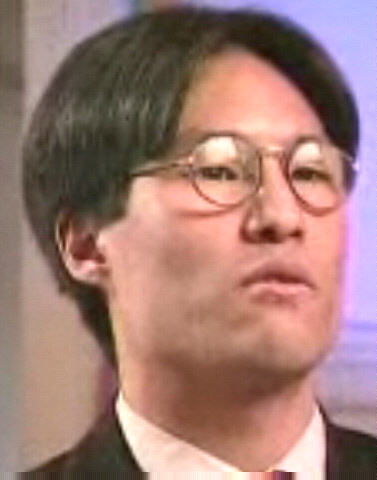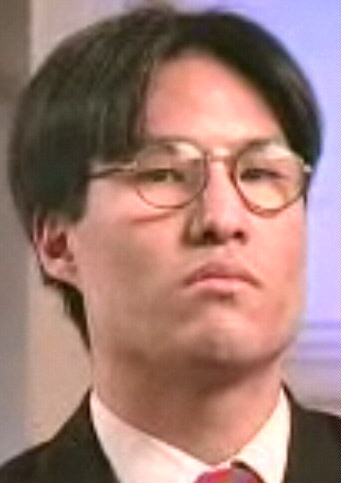 But this is how I look like in year 2009 when I am 38. I didn't look any older, but I turned extremely gorgeous and handsome within these 10 years!!! You can see the YouTube video that I made in year 2009 here (age 38).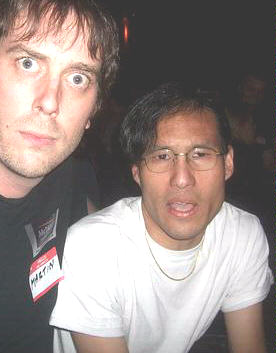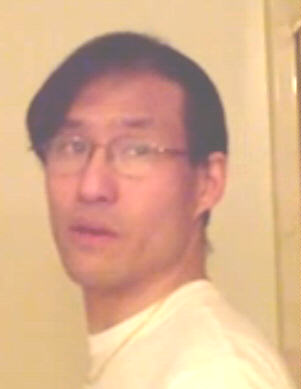 | | |
| --- | --- |
| | I'm telling you guys. These are videos. I cannot make these things up. You can see every angle of my face. In one of these videos that I made at age 38, I clearly stated that it's year 2009 and Obama just became the president and he is pushing for a 800 billion dollars stimulus bill. Click here to see that video. There is no way for me to make this stuff up. You can tell it's the same person by the voice and by some common facial features. But the 38 year-old Alex Chiu is just so much more gorgeous and handsome than the 28 year-old Alex Chiu. There is no way that I can make this stuff up. |
By Wowchung on May 20th, 2006
When asked how he liked the Gorgeouspil and Chi Flush, this is what he replied:
"Pretty good actually(I still wanna try powder just in case Alex got gipped)I got good sleep last night and I have 4 scars(I've been careless in past lol)3 on my right arm 1 on left.I woke up and this one scar(right arm) I don't even remember how I got it it was long time ago,and it looked like it didn't fade at all with neo rings/footbraces (I started wearing rings jan or feb 05 and footbraces around sept 05)but now I'm strting to see some definite fading.Little cuts I've gotten recently healed up extra fast as well."
---
By Gfighter24 on May 22nd, 2006
I took both the gp and scf for about 7 healing sessions now. Scars dissappearing, i feel smarter, more common sense, people tell me i look better now. The amazing thing is after you take the pill and powder and i put the rings on there is so much power my hand sometimes goes numb, here is what I feel.

from 0-30 min after the 20 min waiting i feel alot of power, but my body is not used to this power so within this 30 min i feel strong fluctuating all over. After the 30 min my body gets used to the energy and I start to feel warmth, pain, tingling sensation, and im not sure but i feel a wierd pain not really painful in my facial bone structure... Im pretty sure thats the bone structure changing. My dad thinks im nuts with all this stuff especially the rings when i got them but now Ill have him try and see how powerful these things are.

The power is undeniable. Last night I felt sharp pain in my organs, like reallly sharp pain. After the healing session ended and i went to sleep i woke up and i peed out veeeery smelly dark brown piss. DARK BROWN and it smelled like ammonia. Im thinking that my pancreas was damaged, liver, and spleen going by where i felt the pain in the organs. Anyone get similar healing results?

Anyway anyone who doesnt believe in this @#%$ you. Use your common sense and go by a herb that alex talks about like ginseng for very cheap and see if there is a difference in healing power... if there is well then no @#%$ it works.

Anyway Alex you deserve a nobel prize or some @#%$ like that. I just hope the fda dont touch you.. if they do... alot of ppl will b pissed. Ill take a photo at the end of this month.

Alex I heard about an asteroid landing in the Atlantic ocean and im thinking it might be true. Can you do iching and tell me if the asteroid will hit on may 24. thats this may and i hear that new york will go under water. Alotta thanx
---
May 25th, 2006
by Wayne Freitag
I was very skeptical about ordering the Gorgeouspil. I thought that you had just came up with this idea as a clever money making gimic, since the magnets were so successful. The finger rings really benefited me, so I thought what the heck, let's give it a try. My mother and brother both use the magnets, and have greatly benefited from them.
After taking Gorgeouspil, I slept very deeply,and the next morning my urine was a dark color. The thing that amazed me is the moles, on my face neck, and arms were either gone, or greatly reduced in size after only one day!! I had these moles for decades and considered having them surgically removed. Now that is not necessary!! AMAZING!!
I will soon be ordering the foot magnets and the Super Chi Flush. I doubt you no longer, and have total confidence in your abilities. If you wish, I will update you on my progress. Thanks for everything.
Wayne Montag
Houston, Texas
---
May 26th, 2006, by Giant Letter A
Well, alot of the testimonials say close to the same thing. That gives some reliability points to alex. When testimonials are close to the same that means it does what its supposed to do to a certain degree.

As for my testimonial, i feela lot of "moving" in my nose and cheekbones. my face is less red and acne seems to "scar" but then dissapear the next day. The effects are not very much for me, i believe that has to do with the fact that im only thirteen and the reverse aging effect cant take place on me.
It actully seems I have gotten "older" than younger. My voice is deeper and my... Well..... Im not going to talk about that here. My muscels were once VERY out of poportion, my left arm had hardly any and my right had alot. But after only 3 days of the pill and rings my left had CONSIDERABLY more muscle. By considerably I mean a really noticable amount.

Well thats it for my testimonial. I hope to see more.
---
May 29th, 2006 by Drew Waples
I received the Gorgeouspil in the mail last monday. At that time I was sick with a cold. For some reason I had been sick for the last 2 months. I would get a painful sore throat, fever, and green congestion. When I would get better in 10-14 days I would get another cold - something slightly different in symptoms but still painful. I went to the doctor 4 times. He gave me antibiotics the first few times, ran blood tests, and throat cultures. He was starting to get worried and was going to have me see an Infectious Disease specialist. I kept getting new colds one after another.
When I received the Gorgeouspils I was very skeptical. I tursted Alex Chiu's Immortality Devices but I thought he had lost it when he started talking about the herbal pills he was making. I followed the directions and took 4 capsules. The next day I woke up and I was not congested as badly and my fever had went away and my throat did not hurt. The next day the congestion completely cleared up. I had been sick for 2 months and within 2 days I was completely healthy again! Unlike the other times, this time I did not get sick again. This is the first time I have been healthy for 7 days in the last 2 months.

Dosage: 4 650mg Capsules of Gorgeouspil

Weight: 145 Lbs.

Equipment: Neodymium Rings

Thank you so much, Alex!

- Drew Waples
---
May 30th, 2006 by Jimmy Gibbons
I've had problems with rashes for two years now. They are very troublesome fungal rashes that I have found no way of getting rid of. Colloidal silver and garlic(fresh raw garlic) are the only two things that helped. But the Gorgeouspil works even better. That sounds like a commercial, but that's what happened. My rashes disappeared after only a few days on the Gorgeouspil.

I wonder since Gorgeouspil is very spicey, if countries where people eat lots of spicey food, the people may be prettier. And countries like America, where all they drink is Coca Cola and sugar for lunch are uglier. I've known quite a few Ethiopians and they all seem prettier than average, and thier food tastes like a skunks ass.
---
May 30th, 2006 by Alex
I was a little embarassed to say that my room was infected by fleas because of my outdoor cat which sleeps in my room. Before Gorgeouspil, I would itch and scratch like crazy. I go to the bookstore scratching my legs and arms. People stay away from me. My skin was extremely sensitive before I had the cat. After the cat, I scratched like crazy. The fleas haunted me day and night. I could not get a good night sleep because of fleas. I would wake up in the middle of the night many times and scratch. Before the cat, I wear only underwear to sleep. After the cat, I wear socks, full gear pajamas, I stuff my pants into my socks. I even thought about wearing gloves. I tried killing them with sprays, I put lots of water filled pots on the floor so fleas would jump into them and cant get out. I would see 4 or 5 trapped fleas in 1 pot each day. T

Then after taking Gorgeouspil, they mysteriously disappeared. No where to be found. No more trapped fleas in pot. I would discover one or 2 fleas like once a month. But those are new fleas which my cat brought in from outside. But right after I see them, they mysteriously disappeared again.

I think its because they would die after they bite me. Gorgeouspil killed them. I didn't tell people this until now because Im embarassed.
---
By nativeson on May 31th, 2006
Hi Alex: I want to relate to you and all other forum members about my first gorgeouspil and super chi flush session, which was last evening, May 30th. After 20 minutes into the session, my whole face felt heavy and there was much pressure on the whole front of my face, from forehead to chin. Thanks to your phone conversation with me this morning, Alex, you reassured me that it was the chi going to those areas and helping in healing and making me more "gorgeous". Thanks, I can use it! Anyway, I felt tingling throughout my body for about an hour, and then everything wound down after about an hour. All in all, a very pleasing first session! I can't wait for my second session this evening. And thank you again Alex for answering all of my questions regarding the use of these formulas. Cheers!
---
by Johnnie Siller j.siller@mail.sxu.edu on June 2nd, 2006
Alex
The two hour healing sessions cause my bones so much pain. I can endure it, but it hurts like hell. I also can feel/hear my skeleton shifting and cracking. Is this normal?
---
Posted June 5th, 2006
by: Fabrizio Coppola
Italy

Istituto Scientia
ipotesir@tin.it
fabrcop@tin.it
scientia@ipotesi.net

In the meanwhile, while waiting for real pills,
I have been trying a mix with some of the ingredients.

I have got good results with this improvised mix,
with footbraces + neo rings. I feel that something is
happening around my eyes and somewhere in my back
(around my lungs). I look younger in my face, expecially
around my eyes.

The results are good, however they are neither as good
nor as fast as supposed. Also, I feel a lot of pain around
my eyes, for several hours after a session. I imagine
that this is due to the wrong dosage of the ingredients.

Here they are:
40% root of Angelica Sinensis (Dong Quai?)
20% Wild Yam
10% St. John Wort
10% Korean Ginseng
10% Siberian Ginseng (I can't find American or Noto)
5% Garlic (powder)
5% Black pepper

If you want, you may post this as a testimonial,
even though it is not about the real pills.
It would be great if you could tell some hints
(about the dosage) to those who are very far
from the USA and hence have problems to get
the real pills (or powder).
Of course, I would prefer to pay for the real
pills if they were easily available, rather than
making them by myself (it would not be worth
the hassle).

Fabrizio Coppola
Italy

Istituto Scientia
ipotesir@tin.it
fabrcop@tin.it
scientia@ipotesi.net
---
---
July 2nd, 2006 "Balkwill, David" David.Balkwill@commerzbank.com wrote:
Hello Christian,

Many thanks for the replacement order which I have now received. I am enjoying the GP and am considering trying out the Super Chi Flush !

I have been using the neo rings and foot braces for about 5mths now and have noticed a number of age reversal effects. Recently new hairs started growing in my hairline where it had been slowly thinning out and receding. My skin is tighter and age lines are slowly reducing. I feel that the aging process is reversing now.. With the GP I do feel that it does allow the energy to move more strongly, smoothly and is enabling me to become conscious in areas where I was less conscious previously. This is already having an effect on my appearance. By all means forward this to Alex for his testimonials.

However, I would like to ask you if you can set up the regular order that Alex advertised on his website, where I can receive one bottle of GP a month so I don't have to keep ordering.

Could you set this up for me please? I am assuming you have all the details you need to set this up - if not, let me know.

(I'll order any SCF separately at a later date (when Alex's new formula is ready).

Many Thanks,
David